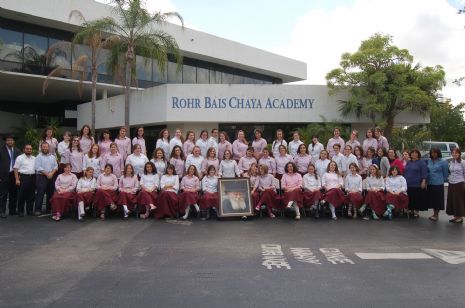 About Our School
The Rohr Bais Chaya Academy is a full service high school which began its first year in the fall of 2005 with a 9th grade class. Due to the overwhelming response to our Judaic and Secular Studies program, we have expanded and now service 9th through 12th grade.
We provide a full curriculum of Judaic and Academic studies allowing for both standard and advanced tracks. We also facilitate Advanced Placement courses, which will enable your child to further their academic goals and prepare them for future educational opportunities. Many of our students have received Bright Futures Scholarships to attend any Florida State University.
We believe in the total education of the Jewish child. Our vision is to provide a dynamic academic and spiritual program in a warm, chassidishe atmosphere that will foster commitment to the Jewish community and to lifelong learning and teaching. We will challenge our students to reach their true potential and exemplify the highest values of Judaism and provide a secular studies program which covers all the requirements of the Sunshine State Standards.
To complement the academic curriculum, The Rohr Bais Chaya Academy students participate in a wide range of community projects, such as a hospital visitation program, adopt a grandmother, helping at a food bank and a mentoring program. These events can be view in the student section of the website.
Developing in our students an unconditional love for all, and developing a lasting Hiskashrus to the teachings of the Rebbe, are the main spiritual themes of the school. Farbrengens, classes on the topic of geulah, an in-depth study of the ten mivtzoim campaigns, and a values course based on the 12 pesukim will underscore the Jewish world's goal – "to prepare the world to receive Moshiach."